SERENITY ROSE IN JAPANESE!
on
September 22, 2011
at
3:07 pm
HELLO TOKYO!
And Osaka, Hyōgo, Hokkaido, Chiba, Miyazaki and ALL the other prefectures!
(Cues up Akira soundtrack… DUH-DUH! HEEE-HUH HEEE-HUH!)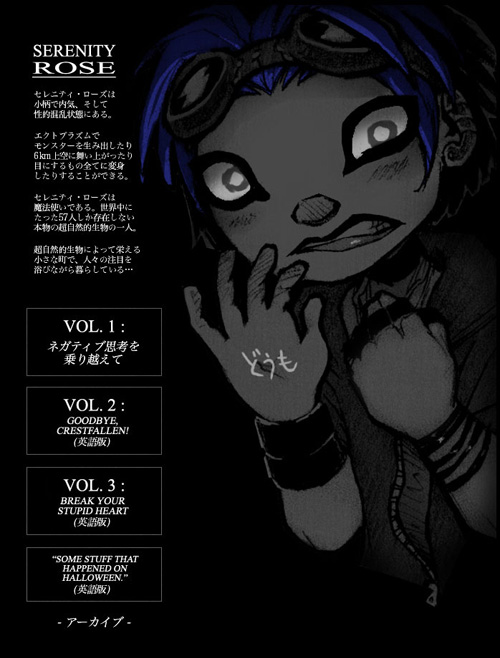 Translation AND lettering courtesy of our pal YASUSHI KITAMURA, clearly the coolest person ever to live. He says he's going to add a page of translation notes to explain all the book's obscure references, too (What, the cover of Skinny Puppy's "Too Dark Park" isn't a cross-cultural constant?), so that should be interesting.
And there's already some kind of review or something! Over at ReadMe!Girls!の日記・雑記 there are images and words relating to the book, so let's take a look at the Google translation…

"Goss Goss words
Goth everyday
Or non-routine
Young blue-haired witch
Serenity Rose
Goth comics such
"Serenity Rose"

Author Aaron A

have been exposed as a web comic, has been released from this book form as SLG.

Such "Serenity Rose" has been updated Japanese translation.

Well, thankfully boy.
"Serenity Rose" is if you have read the book version is also sorely
(I think you can see reading) and therefore in the text packed fishing Mitchiri frustrated, and this until I read the fine rice Tenakatsu chest. 1p many number of frames it, anyway Mitchiri black. Guhee.
However, Volume 2 (Book2) becomes, is not really a comic easier to read lines can be radically Pages, Volume 1 (Book1) higher hurdle anyway.

Japanese translation of this edition is now up to Book1, Book1 only obstacle that I have been translated, great joy.

Serra's hero and best friend (partner in crime?) But I also do a test of character, my favorite and come
Half British and Japanese
Pink twin
Great witch and a rock star
Vicious Whisper

The Web site we have a vicious corner!
(W I are feeling like life's consultation Vicious)

The background of this work Tonghua goth subculture has quite a rich culture, care becomes read the Japanese version, I think look interesting to read the English original by all means.
For example, Serra and his is now a vicious "witch" is called, in translation here is "witch" has become.
This is not original "WICTH".

Speaking of witch, wizard male witch (Wizard), witches witch witch women (Wicth) has a strong image of women is not the only witch.
Then, a man came to this work witch. Thus the translator is "witch" and the translation seems to be chosen.

Sorcerer Wizard rather than witch. Mysteries of the universe, it's the wizard who know the truth hidden transcendent wisdom.
Meanwhile, the law of Magic (Witch Craft) The fishing operations to put yourself in the dark, it witch.

Quite a different nuance.
Be told of this work goes to the Witch and the.

Wording of sub-culture even more than that, because there is nothing quite accurate in Japanese, but that seems to be very hard, may be made by the translator will supplement that maybe around.

So, try the translator's blog
Seems it was a bit hard to read, but then a stroke of luck; "FINE RICE TENAKATSU CHEST" to the rescue! Witches witch witch women (Wicth).
Oddly enough, while Yasushi was lettering SR1, I've been lettering manga for a little extra money. The first book I worked on is called Sayonara, Zetsubou-Sensei, or "Goodbye, Mr. Despair," so I guess I can't use that title for my autobiography anymore. (THANKS, JAPAN.) Check it out! LINK.
And so the GRAND TRANSLATION CHALLENGE keeps moving along. I have a full Swedish translation here now, with Spanish and German (and… Hebrew?) coming somewhere down the line. But with SR3 coming soon, GOOD GOLLY I don't know when I'll have time to letter them. Anyone willing to do some freelance Serenity Rose lettering? I will pay you in fine rice Tenakatsu chests, or possibly a small amount of money and the title "HERO OF CRESTFALLEN."
I wish my life had a consultation Vicious.
ONWARD TO OCTOBER 4th!