WEBCOMICS
SERENITY ROSE WAS TEN YEARS OF MY LIFE. TEN GLORIOUS, PAINFUL, EMBARRASSING YEARS OF MY LIFE. ENJOY ALL THREE CHAPTERS AND THE "VICIOUS WHISPERS" ADVICE COLUMN BELOW!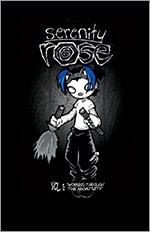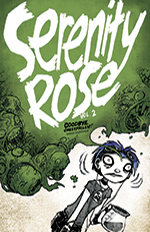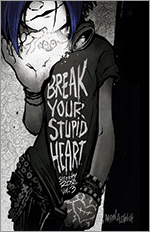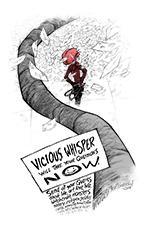 "SERENITY ROSE

is 4'10", painfully shy, and totally into girls (shhh). She can also conjure MONSTERS out of ectoplasm, HOVER 20,000 feet in the air, and SHAPESHIFT anything she sees. Serenity Rose is a WITCH, one of only fifty-seven the world over, a real supernatural oddity. And sadly for her, she lives in the glare of a tiny tourist trap that thrives on supernatural oddities. Such fun!

"HORROR! TERROR! CRIPPLING SOCIAL ANXIETY!"
PRINT BOOKS
BECAUSE PRINT IS STILL PRETTY SWEET. Most available in the store. Click + see!
Written and illustrated by me.

SCREAMING HORROR FOR KIDS!


IT'S NOT SCARY! is about a happy little monster kid named SUNNY VON SHOCK who lives in a colossal castle full of menacing creatures and nightmarish experiments. One day a regular neighbor kid named MILO dares to ring her doorbell, and OMG she just BURSTS WITH EXCITEMENT to finally show off all her awesome stuff. But will Milo agree her horrible stuff is so awesome?
Written and drawn by me.

The entire SERENITY ROSE book in one gargantuan 500-page hardcover.
– All three SERENITY ROSE books
– The full "Vicious Whispers" web series
– The never-before-in-print Halloween short
– 16 pages of behind-the-scenes extras and archival material
– Guest art by Jhonen Vasquez, Faith Erin Hicks, Sophie Campbell, Jamie Smart, Blue Delliquanti, and more
Written by MARIAH HUEHNER, colored by DREW RAUSCH, drawn by me.

Crimson Volania Mulch has a problem; she just woke up in a crypt and, besides her name, has no idea of who, where, or what she is. Welcome to the Cemetery of Assumptions, a vast landscape of stones, mausoleums, and secrets. Home to monsters and mayhem, it may also hold the answers to her unknown parentage.
INVADER ZIM VOL. 1-4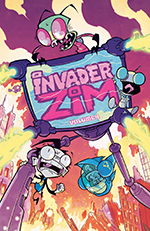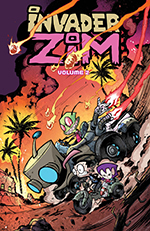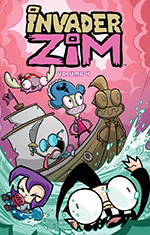 I have work (art and writing) in the first four volumes of the Invader ZIM series published by ONI PRESS.
ELDRITCH!

Written by me, art by DREW RAUSCH!

"ANYA SOBCZEK (SUB-CHECK) is a snarling science major with an arm full of Darwin tattoos. Her brother OWEN is a sensitive young thing in a coven of teenage occultists. The Sobczek sibs have always been brutally competitive, but now that Owen's blood has started BUBBLING with ancient tentacled abominations, their rivalry's about to enter a vast new dimension of cosmic terror…"
CONFESSIONS OF A BLABBERMOUTH

Written by MIKE + LOUISE CAREY, art by me.

A snarky British high-schooler, her mom's hyperpompous new boyfriend, one ghost ranch and a low-rent medieval amusement park (plus BLOGGING) from DC/MINX.
KIMMIE66

Written and drawn by me.

Swirly-haired Telly and her ghostly pal Kimmie haunt the VR online "lairs" of the 23rd century. FUTURISTIC FEARSCAPES from DC/MINX.