ELDRITCH! #3 IS A DISEASED BABY OF A THING.
on
September 15, 2011
at
2:35 pm
I mean, just LOOK at that little guy: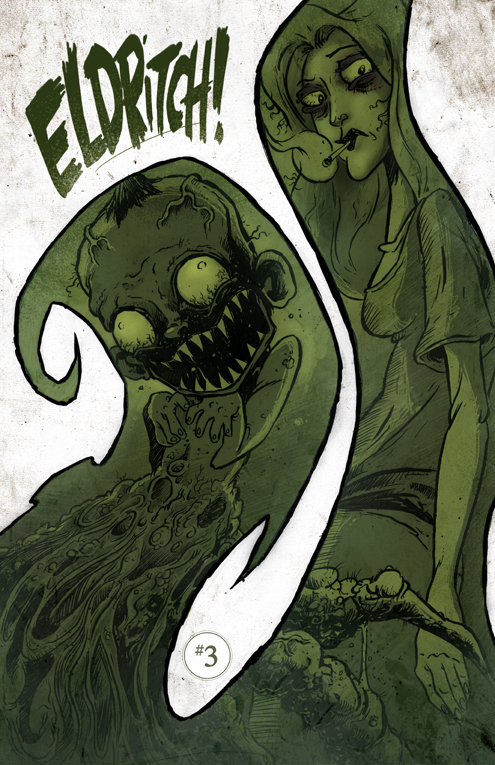 Are you strong enough to handle that kind of horror? Well, all right then…
ELDRITCH! #3: "The Instruments of Fear"

Anya Sobczek is locked in a Chamber of Horrors. A surgical table. Rusty scalpels. A tank of roiling black blood, dozens of mean-looking machines, and the hissing head of Medusa herself. CLACK – the door opens, and Anya the Unbeliever gets ready to start a war…

STRIKE A BLOW FOR SCIENCE in the new chapter of ELDRITCH!
We've got a special promotion this time around for you stalwart ELDRITCH!ites roaming the ELDRITCH!lands… Everyone who's successfully endured all three issues to date is entitled to a FREE digital copy of "Drippin'" Drew Rausch and "Joltin'" Jocelyn Gajeway's horror book SULLENGREY, observable below:
It's why you don't let your feet dangle over the bed while you sleep. It's the reason you feel dread while passing dark alleys and why you lock the deadbolt at night. It's already inside you…. and it's HUNGRY! Welcome to Autumn's Grove, a normal little town where your fears manifest, then devour you whole!
To get your free copy and ensure you never sleep again, please check and make sure you've purchased all three issues of ELDRITCH! (might be under the cushions there), then send us a request right HERE.
Thank you for all your support, folks! ELDRITCH! #4 will shamble over and say hello on Wednesday, October 19th.