THINGS MUST BE SIGNED.
on
November 2, 2011
at
1:58 pm
CRAZED weekend full of MAD SIGNAGE coming up, as my twitching, sign-thirsty hands clutch for any available books to deface at not one but TWO signature-making events, Nov. 5th & 6th:

VEGAS VALLEY COMIC BOOK FESTIVAL – SATURDAY
Never been to Las Vegas before, but SLG Publishing honcho Dan Vado promises our booth will have "the loosest slots in town," so I'm excited! Come see me and ELDRITCH!'s Drew Rausch from 10 AM 'til 3 PM at the Clark County Library, comfortably far from the epileptic terror of The Strip. (Please do not try feeding quarters into my head.)

BAT'S DAY HOLIDAY BLACK MARKET – SUNDAY
"The Bats Day Black Market is the premier shopping market experience for the Dark Subculture, which includes from Deathrock to Goth, Industrial to Steampunk, Rockabilly to Psychobilly, Halloween and anywhere in between all with the love for Disneyland."
Drew and I will have our own table at this one, with a fancy banner and everything. We'll be selling all our books, art, prints, t-shirts, the lot, including PRINT copies of ELDRITCH! #1 (those sweet "sketch cover" ones you thought were gone forever). We'll be spookying up the place from 1-9 PM, so please come and keep us company! It's a really fun event, seemingly tailor-made for anyone who's into the whole "Serenity Rose" thing. (Assuming a few of you are out there.)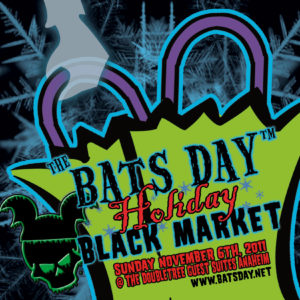 My hands… MY HANDS DEMAND TO SIGN! Put something in front of them before it's too late!