ELDRITCH! THE SERIES GOES DOWN IN FLAMES!
on
August 29, 2012
at
12:00 pm
GET READY TO FEEL YOUR BRAIN BOIL…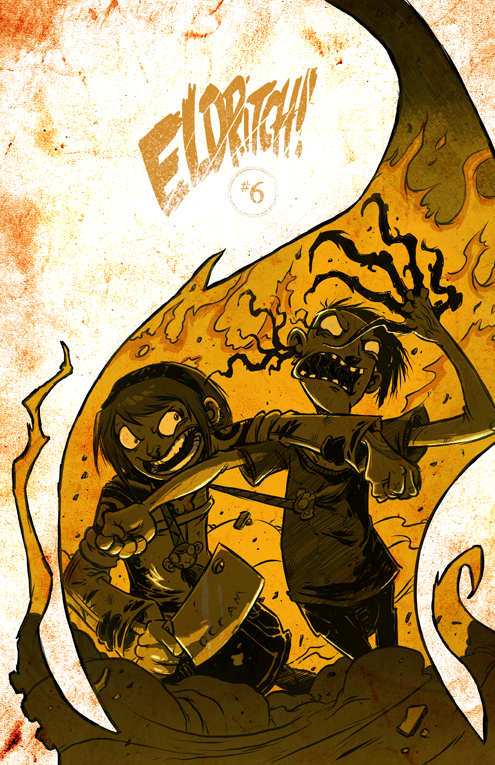 Written by AARON ALEXOVICH – Art by DREW RAUSCH

Owen Sobczek is King of the Monsters. He's got one rival's head in his claws and another locked inside a living Amazonian straight-jacket. But before the new king can spread his writhing black infection to the rest of the world, there's just one more battle to fight in the SEARING CONCLUSION to the ELDRITCH! saga!

ROAST YOUR SOUL with the final issue of ELDRITCH!
CACOPHONOUS THANK YOUS to everyone who stuck by your raving mad guides all through the dank, twisty worm-tunnels of ELDRITCH! We're sorry there is so little of your body and mind left, but we trust the sacrifice was worth it. (You were delicious, anyway!)
For those in suspense: There WILL be an ELDRITCH! print compilation later this year. The shambling zombie armies of SLG Publishing are busy killing and dismembering trees as we speak. The book will be HARDBOUND, filled with bells and whistles, and encased in a thin layer of your own still-living flesh. Fit for consumption by the Dread Arkaan himself.
Details are IMMINENT.
Thanks again for your support, ELDRITCHites! And keep searching the skies, scrying the entrails, and scanning police blotters for grim portents of the rise of ELDRITCH! BOOK TWO…