TEN AWKWARD YEARS
on
February 21, 2013
at
3:40 pm
Serenity Rose #1 came out ten years ago this October. (OH MAH GAH.)
It started as a webcomic about a year before, so this whole time period is sort of bathed in the glow of TEN-NESS. I think I'm supposed to go, "YAAARRRR, I CAN'T BELIEVE IT'S BEEN SO LONG!" but you know what? Ten years actually seems about right to me. (And of course Sera's been with me for a lot longer than that.)
Do any of you guys remember buying that first issue way back in 2003? Me, I'll never forget when that big box of complimentary copies (my first published work!) arrived on my doorstep courtesy of SLG. I slashed it open, lifted the flap, and was almost instantly overcome by a terrible cloud of black ink vapor. I can still smell it now… Possibly because my sinuses have been permanently damaged.
You just don't get that experience online, you know?
But you know what? Ten years means CELEBRATION TIME, and there are plans afoot! Along with bringing Break Your Stupid Heart to a close, I'll also be making new prints, assembling an art book, raiding the archive to post ancient Sera secrets, digitizing the FIRST Serenity Rose student film, releasing various ectoplasmic toxins into the local water system, doing some signings, and a GREAT BIG SPECIALNESS for the really real anniversary this October.
To help things along, I've teamed up with the good, ENTHUSIASTIC folks at Hiveworks to help build Sera's audience and promote all the ridiculous things I'm doing. They've got an incredible, diverse lineup of webcomics up in the hive, and I couldn't be happier to have Serenity buzzing around in there. If you want to see the comics evolve into the future before your very eyes, CHECK THEM OUT. (And please excuse the dust and screaming while we make some changes to Heart-Shaped Skull.)
The big celebration kicks off NEXT WEEK at Seattle's Emerald City Comic-Con, where I'll be perched atop a MIGHTY THRONE (or "table") all weekend with ELDRITCH! artist Drew Rausch. Along with our rapidly-dwindling supply of ELDRITCH! hardcovers, I'll also have the anniversary print above, loads of original art, and all my other books, too. I'll be doing other conventions later this year, but I've heard nothing but nice things about Emerald City, so hope to see you there!
Here's where you can find us:
ECCC Artist's Alley TABLE E-01
Friday, March 1 – 2:00PM to 8:00PM
Saturday, March 2 – 10:00AM to 7:00PM
Sunday, March 3 – 10:00AM to 5:00PM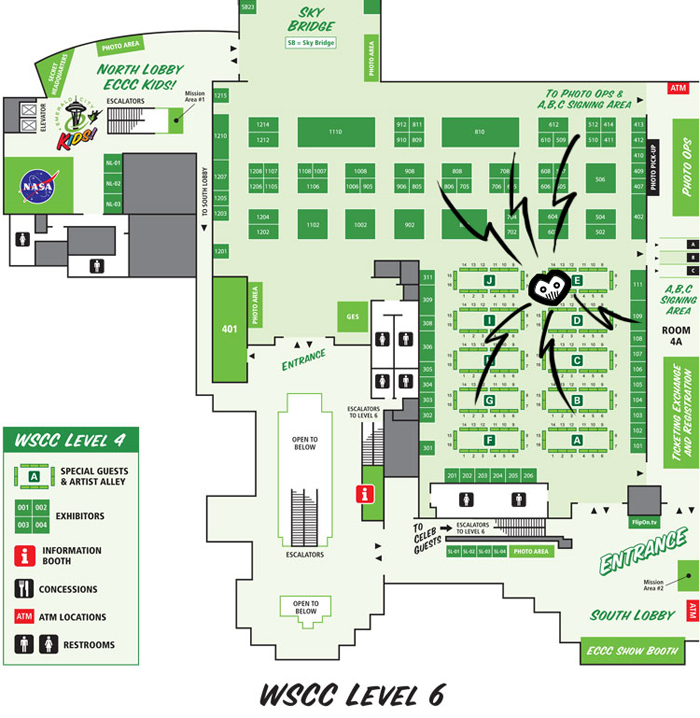 Probably step away from the table every now and then to see stuff/ eat folks/ put ectoplasmic toxins in the water supply, but we'll more or less be there all the time. Should be fun! More convention-type announcements to come.
And I'd just like to say THANK YOU to everyone who's stuck with me and Serenity over this terribly awkward decade. You guys are total freaks and I love you. (Those of you who came later… Yeah, you're all right, too.) The coolest stuff is still ahead!